Automatic Urban and Rural Network (AURN)
Introduction
The AURN is the UK's largest automatic monitoring network and is the main network used for compliance reporting against the Ambient Air Quality Directives. It includes automatic air quality monitoring stations measuring oxides of nitrogen (NOx), sulphur dioxide (SO2), ozone (O3), carbon monoxide (CO) and particles (PM10, PM2.5). These sites provide high resolution hourly information which is communicated rapidly to the public, using a wide range of electronic, media and web platforms.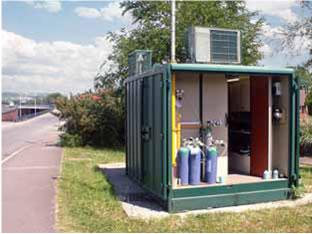 What is measured?
Parameters Measured
Monitoring sites and data
Ambient Temperature
Barometric pressure
Carbon monoxide
Daily measured PM10 (uncorrected)
Daily measured PM2.5 (uncorrected)
Modelled Temperature
Modelled Wind Direction
Modelled Wind Speed
Nitric oxide
Nitrogen dioxide
Nitrogen oxides as nitrogen dioxide
Non-volatile PM10 (Hourly measured)
Non-volatile PM2.5 (Hourly measured)
Ozone
PM10 Ambient pressure measured
PM10 Ambient Temperature
PM2.5 Ambient Preasure
PM2.5 Ambient Temperature
PM10 particulate matter (Daily measured)
PM10 particulate matter (Hourly measured)
PM1 particulate matter (Hourly measured)
PM2.5 particulate matter (Daily measured)
PM2.5 particulate matter (Hourly measured)
Rainfall
Relative Humidity
Sulphur dioxide
Total Particulates
Volatile PM10 (Hourly measured)
Volatile PM2.5 (Hourly measured)
Wind Direction
Wind Speed

Current sites: 150
Total sites: 17
Data availability: 22/02/1973 to 16/09/2021
What is the purpose of the network?
The major objectives of the network are as follows:
Checking if statutory air quality standards and targets are met (e.g. EC Directives);
Informing the public about air quality;
Providing information for local air quality review and assessments within the UK Air Quality Strategy;
Identifying long-term trends in air pollution concentrations; and
Assessing the effectiveness of policies to control pollution.
The data from the AURN are used for:
Policy development for human health and ecosystem protection
National Indicators on environmental quality
How is the network run?
A number of organisations are involved in the day-to-day running of the network. Currently, the role of Central Management and Co-ordination Unit (CMCU) for the AURN is contracted to Bureau Veritas, whilst the Imperial College has been appointed as Management Unit for the London Air Quality Network (LAQN). Ricardo Energy & Environment undertakes the role of Quality Assurance and Control Unit (QA/QC Unit) for the entire AURN. The responsibility for operating individual monitoring sites is assigned to local organisations, such as local authority Environmental Health Officers with relevant experience in the field. Calibration gases for the network are supplied by BOC Limited and are provided with a UKAS certificate of calibration by Ricardo Energy & Environment.
Quarterly ratification reports can be viewed in the Library section.
Monitoring Methods
The techniques used for monitoring within the AURN are summarised (on the monitoring methods page of this website).
The interactive map page provides an interactive view of this network with links to site information and latest data.
Data Verification and Ratification
The following PDF is available: The Data Verification and Ratification Process (PDF) which contains more information about the data verification and ratification process.
Current and Closed AURN monitoring sites
To view the current monitoring sites within the AURN, view the current levels page which also shows the parameters measured.
Information about closed AURN sites is also available for reference purposes.
---
Select an AURN monitoring site from the dropdown below to view the associated site information.
---
View data for sites in this network
You can view the latest data from this network on the Latest pollution summary page.
Data can be downloaded from the Data Selector section of this website.