The UK-AIR website uses cookies to make the site simpler. Find out more about cookies
Pollution forecast
These pages provide air pollution forecast information from Defra and the Devolved Administrations. Here you will find daily updated forecasts of UK air pollution concentrations for up to 24 hours ahead. Forecasts are issued for sixteen urban areas and sixteen UK regions; these cover roadside, urban background and rural locations.
Forecast for Today, Tuesday 10th December 2013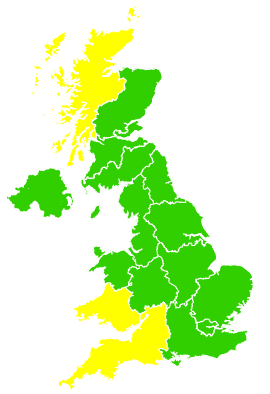 Regions
You can quickly jump to a specific region by choosing from the dropdown list below.
Latest Forecast Summary
Today
Levels of air pollution are likely to remain Low in all areas although there is a possibility of Saharan dust which may cause visible deposits on cars and buildings in Scotland and Northern Ireland.
Wednesday
The forecast for tomorrow will be available this afternoon.
Outlook
Much of the UK will be influenced by recirculating air from France and Spain but mild temperatures should keep pollution levels Low. Saharan dusts deposits are expected to be widespread towards the end of the week but this is unlikely to affect pollution levels. Rain on Friday will help to disperse any lingering particles.
» View a regional summary table of UK forecast data
Air pollution alerts
There are currently no air pollution alerts issued. This page will update with information about alerts when issued.