The UK-AIR website uses cookies to make the site simpler. Find out more about cookies
Pollution forecast
These pages provide air pollution forecast information from Defra and the Devolved Administrations. Here you will find daily updated forecasts of UK air pollution concentrations for up to 24 hours ahead. Forecasts are issued for sixteen urban areas and sixteen UK regions; these cover roadside, urban background and rural locations.
Forecast for Today, Wednesday 12th March 2014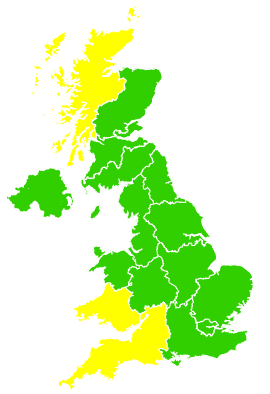 Regions
You can quickly jump to a specific region by choosing from the dropdown list below.
Latest Forecast Summary
Today
Moderate air pollution forecast in Southern and Eastern England, Yorkshire and Humberside and Wales on Wednesday. All other regions Low.
Winds arriving in Southern Regions have originated from Central and Northern European. This could cause elevated background concentrations of PM10 and PM2.5. We currently expect concentrations to be Moderate but there is the potential for elevated concentrations due to poorly dispersed local emissions due to settled weather and low wind speeds. There is the potential to see elevated local emissions in many regions across the UK as they will experience a still, frosty and foggy start tomorrow. We will observe the situation closely and update our forecast as required.
Thursday
The forecast for tomorrow will be available this afternoon.
Outlook
We are currently observing winds arriving from Central and Northern Europe which is having an affect on PM10 and PM2.5 concentrations in Southern Regions. This is expected to continue through this week as a stable anticyclone lingers over the UK. This is forecast to cause recirculation of air masses over southern regions of the UK. This could lead to further elevated background concentrations of PM10 and PM2.5 when the elevated background is coupled with poorly dispersed local emissions. We will monitor this situation closely as the week progresses.
» View a regional summary table of UK forecast data
Air pollution alerts
There are currently no air pollution alerts issued. This page will update with information about alerts when issued.