About Air Pollution

For the purpose of monitoring and reporting air pollution, the UK has been divided into regions (or zones) and urban areas (or agglomerations), in accordance with EC Directive 96/62/EC.
There are sixteen regions defined for reporting levels of air pollution. They match:
the boundaries of England's Government Offices for the Regions; and
the boundaries agreed by the Scottish Executive, National Assembly for Wales and Department of the Environment in Northern Ireland.
There are twenty-eight defined urban areas (with a population greater than 250,000). The map below shows 16 regions and 16 urban areas which are used on this site and elsewhere to report the current and forecast levels of air pollution.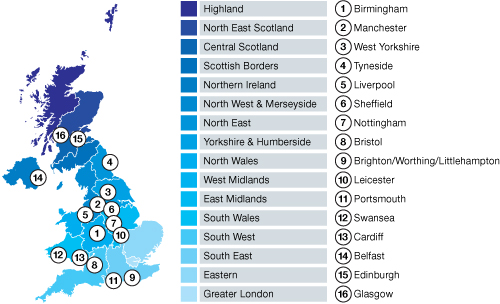 A detailed report on the designation of UK zones and agglomerations (PDF 8.1MB) can be downloaded from this website. From the map on the latest summary page you can select one of the sixteen regions to show the latest air pollution measurements and forecasts for that area, and then find out about the monitoring stations where the measurements are made.
Air pollution is described on a scale of 1-10 where 1 corresponds to 'Low' pollution and 10 corresponds to 'Very High' pollution.
The latest air pollution information reported here is based on results from over 120 automatic monitoring systems which take readings every hour. In addition to these, there are over 150 non-automatic monitors which sample air pollution levels on a daily, weekly or monthly basis.
You can also search to find where the automatic monitoring of air pollution is undertaken near you.
Air Pollution Forecasts
Air Quality Forecasts are issued on a regional basis for three different area types:
In towns and cities near busy roads
Elsewhere in towns and cities
In rural areas
Forecasts are a prediction of the Daily Air Quality Index for each region.
See the Forecasting section for more information about the latest air pollution forecast and how it is produced.
Page last modified: 24 May 2012